I've always loved Nina Simone. Nina Simone was a child protoge, an American singer, songwriter, pianist, arranger, and civil rights activist who worked in a broad range of musical styles including classical, jazz, blues, folk, R&B, gospel, and pop. Her Stregnth was essence of womanhood.
Unlike many of us, she also was human and had faults and failures as well.  So, needless to say I and many others have been looking forward to the upcoming Bio Pic to be Released starring Zoe Salanda, praying that although casting was awkward content would play a major role.
but Wait Batman… Ish has hit the fan prior to the movie release
see trailer below
The backlash against director Cynthia Mort's "Nina" has been particularly sharp since it was announced in 2012 that the light-skinned Zoe Saldana, who is Dominican and Puerto Rican, would play Simone. The choice sparked an onslaught of infuriated blog posts, calls for a boycott and even a petition for a casting change. So since there was no change, the trailer now released Nina Simone's own estate has clapped back.   Movie release is for april and
Nina Simone's own daughter, wants us to stay home!!!
We want to always honor and respect our Sista Queens who have set paths for us to blaze thru.  Nina Simone's daughter honors her moms real legacy here in Ebony magazine.
I'm tellin you, I'm not sure if the Twitter war has got this thing going Viral, but it it truly again, bringing this biopic to the for front.
Should the Color of your Skin  be compatible to the Character you play… No white Michael Jackson, No Light Skinned Nina Simone? Is hollywood sharing with us the true stories? We've seen them play up on race in the OJ SIMPSON television series.  Give us bits and pieces of James Browns story, and the list goes on.  Somehow many of the families of the deceased are rarely if ever consulted, and tend Not to favor the movie…
Maybe shes pissed bcause the Makeup Job looked like MUD!!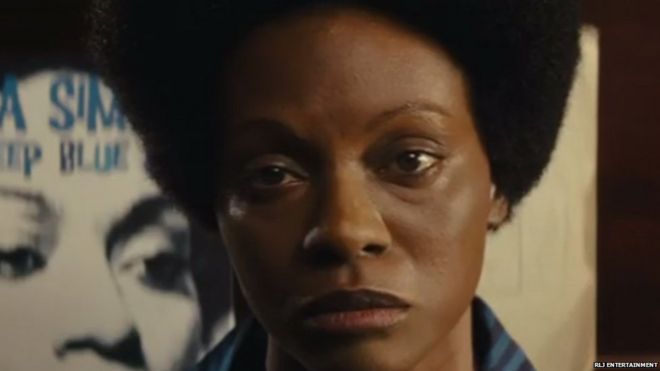 I'm really not sure what to think… what do you think?  Share your Comment Below..heres the trailer..